Welcome – Learn about us and our products and then click on the Amazon links to purchase.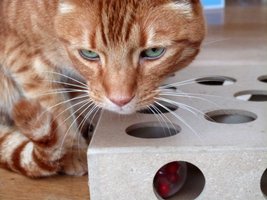 Our Puzzle Box design is unique – Keeps your cat challenged and entertained for longer
Strong, safe high quality construction
Four cat toys included – three balls and a mouse! Add Your Own Toys or Cat Food Treats
The best indoor interactive Cat Toys Puzzle Box
As seen on Channel 5's Secret Life of Kittens
Why do we use Amazon?
Simple: Great Packaging, Great Delivery and Great Customer Service.